Drilling Down to What Makes a Great Sales and Marketing Team

Roman Zelenka
1. 11. 2017
ZELENKA Events: Bringing our VIP clients, translators and well-known industry experts together to share experiences and make the translation process smoother for everyone.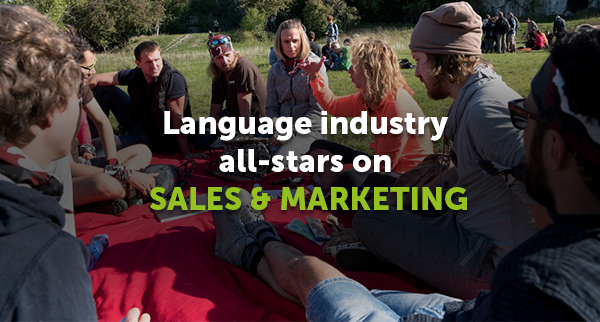 This year we went "back to basics" with 70 industry experts, colleagues, vendors, and VIP clients from some of the world's top brands (Google, Lenovo, Adidas, Continental...). This meant dividing into 5 groups, each focused with exploring the human-to-human approach in a specific aspect of the language industry. And what did we find?
"Sometimes you have to look to the past to redefine the future." - Roman Zelenka
This expert group, led by Anne-Marie Colliander Lind, focused on Sales and Marketing and is the inspiration for our third article in this five-part series. This article is a continuation of our previous articles dealing with Language and IT tools and Project Management.
Take a look at what came out of Anne-Marie's group discussions!

The Sales and Marketing team opted to take their discussion away from the trendy technology subjects (CAT tools and MT) and still managed to provide insightful perspectives that are just as relevant in our industry today. And true to the theme of this event, they got down to the basics to find the foundation that all departments in your company is built on.
"It's all about the people! We are in the people business and human interaction is the element we need to keep alive." - Anne-Marie Colliander Lind
When you focus on human interaction and make open communication the center of what you do—that is the foundation needed to propel any sales and marketing team to powerhouse level. How can we do that?
Actively communicate and speak our client's "language" (use their lingo and cater to their level of understanding). We are in the people business, after all.
Know who we are dealing with and make sure they know us. The more we know about each other, the better relationships we can establish. We are people buying from people and we need to keep that element alive.
Establish strong emotional engagement with our clients. Don't be afraid to get personal. Ask about their families, their hobbies, and their interests.
Be available to answer questions. Take the time to educate our clients, offer troubleshooting solutions and support. Hammer home the idea that you are constantly and actively looking for ways to streamline the process for their benefit.
Understand that this is an ongoing and evolving process that requires constant and frequent evaluation and improvements.
Communication without limits
Without mutual trust and understanding, communication with the client is limited and the problem with limited communication is that if you don't know that there is a problem, you don't know how to fix it.
How important is trust when dealing with clients and how does this influence client satisfaction?
Communication is always key – Talk to your clients. Get to the root of the problem so you can work on finding a solution together.
Make it personal – Get to know your clients. Let your actions and your efforts under to them that you are genuinely interested in who they are and how you can help them
Be yourself – It is the identity and your company's persona that your customers will eventually bond with. Don't stray from the voice, image, or values of what your company represents and be consistent in all channels of business.
Be self-critical – If you feel something isn't working right, take a step back and assess just how much those practices are in line with your vision and do what you can to correct it. In extreme cases, this can even mean a total rebranding, but even then it is still worth it.
Be attentive – Waiting for a client to reveal their dissatisfaction in a survey is already an indication that there is a structural problem in your process.
Be proactive – Unhappy customers can have a negative impact on employee morale, working on ways to detect this early in the process can have a tremendous effect on the general satisfaction of everyone in the process.
Contrary to popular belief, developing leads and selling your services is not the fundamental foundation that success is built on. A sustainable and profitable business is built on relationships and your efforts in maintaining a high level of client satisfaction.
Don't miss the other four articles packed with knowledge from language all-stars on how to improve your business! -> http://www.zelenka-translations.com/news/complete-series-of-straight-to-the-point-zelenka-event-2017-articles