How we helped Kelvion to streamline their translation processes

Zbyněk Zelenka
13. 8. 2021
Kelvion has been providing solutions for almost every industrial application imaginable since the 1920s. With a strong emphasis on customized solutions suitable for extreme environmental conditions, they have become one of the world's leading manufacturers of heat exchangers.
In the same way that Kelvion aims to present tailor made solutions to its clients, we also strive for a personalized approach whenever needed. Because of this, we at ZELENKA translations put our heads together and offered them a solution that was specifically made to meet their needs.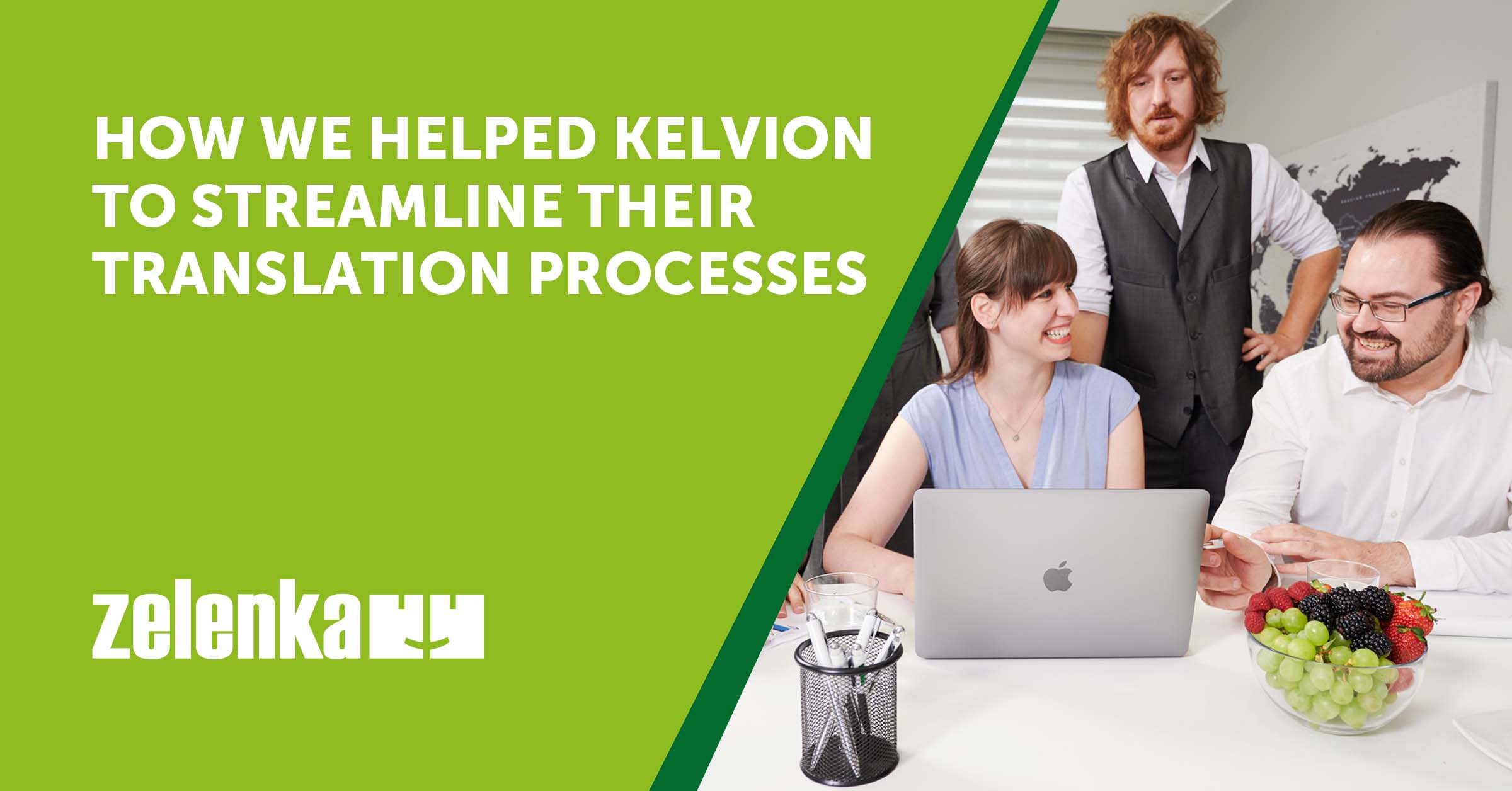 Translating websites and representing 100 subsidiaries in 11 languages? Challenge accepted!
We started our cooperation with Kelvion at the beginning of 2018. While the initial project of translating their entire website into Russian and Czech was no small task, we had no idea of the workload that was waiting for us in the future.
Since 2018, we have expanded our list of contacts throughout various Kelvion locations across Germany. During this time, we translated more than 600.000 words into 11 different languages, while always maintaining our high standard of services, as well as our customer-oriented approach.
From its headquarters in Bochum, Germany, Kelvion represents itself and its nearly 100 subsidiaries. To this end, they tasked various agencies with translating their content before their cooperation with us. This approach not only increases administrative work but also prevents any significant cost saving effects, which a single agency could provide. At the same time there is a risk of inconsistencies in terminology, which will affect the quality of translations in the long run.
While every modern agency worth its money makes use of Translation Memories, for them to be truly effective they must be properly managed. This often proves to be very time consuming and unless you hire someone specifically for that task it will simply chip away at your employee's time for other things.
For more information on the benefits of having a single supplier, take a look at the blog post about How We Saved a Major DIY Retail Chain 236,000 € on High-quality Translations, written by the PM Team Leader of our German department, Lucie Flamova.
Over the course of the next few years, Kelvion trusted us with more and more projects and language combinations. During this time, we unified their Terminology, expanded on their Translation Memory, and consulted on various topics related to managing their translations.
And it was this close cooperation with Kelvion that made another important thing possible. It gave us the opportunity to take a look at their translation processes and help them even more, beyond translations themselves.
The game changer - faster and more transparent processes
In 2019, we were approached to tackle another challenge Kelvion was facing. Since they are represented in many countries around the world, Kelvion made use of its respective native employees in each country to send us feedback regarding our translations. However, the feedback process would often drag out and had no single designated proofreader. That led to terms that were previously agreed upon suddenly being changed with no warning. Such changes can easily result in confusion about certain terms or lead to a non-cohesive style in your translations.
Therefore, Kelvion needed a way to streamline their internal process so it could be seamlessly and efficiently coordinated with external translation cooperation.
After presenting them with different options, together we decided to go with a cloud-based Translation Management System. An approach which would efficiently facilitate the project management processes.
This solution enables Kelvion employees to:
Directly access their content and translation projects at any time.
Monitor actual progress in real time.
Make necessary adjustments to their terminology. Any changes are then automatically reflected in all ongoing and existing projects.
Not only are their processes faster and more transparent but they also allow for better feedback possibilities. At the same time, they can now do their in-house revisions directly in the Translation Management System, which results in a higher quality of their Translation Memories and overall translations.
Naturally, a solution that works well for one company does not necessarily suit another. If you feel we have described any issues which relate to yours, just reach out to us. We'll gladly help to streamline your company's translation processes or become your trusted language service provider.