Improved Translation Quotations

Zbyněk Zelenka
25. 3. 2014
This article was updated on 14 January 2021
We have taken extra steps to simplify our price offers, to help make things a bit easier for our clients when placing a translation order.
Even though we encourage clients to learn as much as they can about the translation process by following our articles on CAT tools, proofreading and style guides, we've come up with a system that is clear and easy to understand saving clients the time it takes having to read up on the logistics of a translation.
We've broken down the quality of translations into a three-level system:
BASIC - STANDARD - PREMIUM
For our clients, this means that they will only need to provide us with the following information:
- the texts they wish to have translated,
- the required language combinations for the translation,
- the intended use of the translation.
We will then analyze the project free of charge and recommend a suitable level of translation. It can be quite difficult for clients to determine (without extensive knowledge in the translation field) which translation services they will need in order for the translation to be 100% ready for its intended purpose. The 'production process' of the translation mainly differs depending on the purpose of the translation.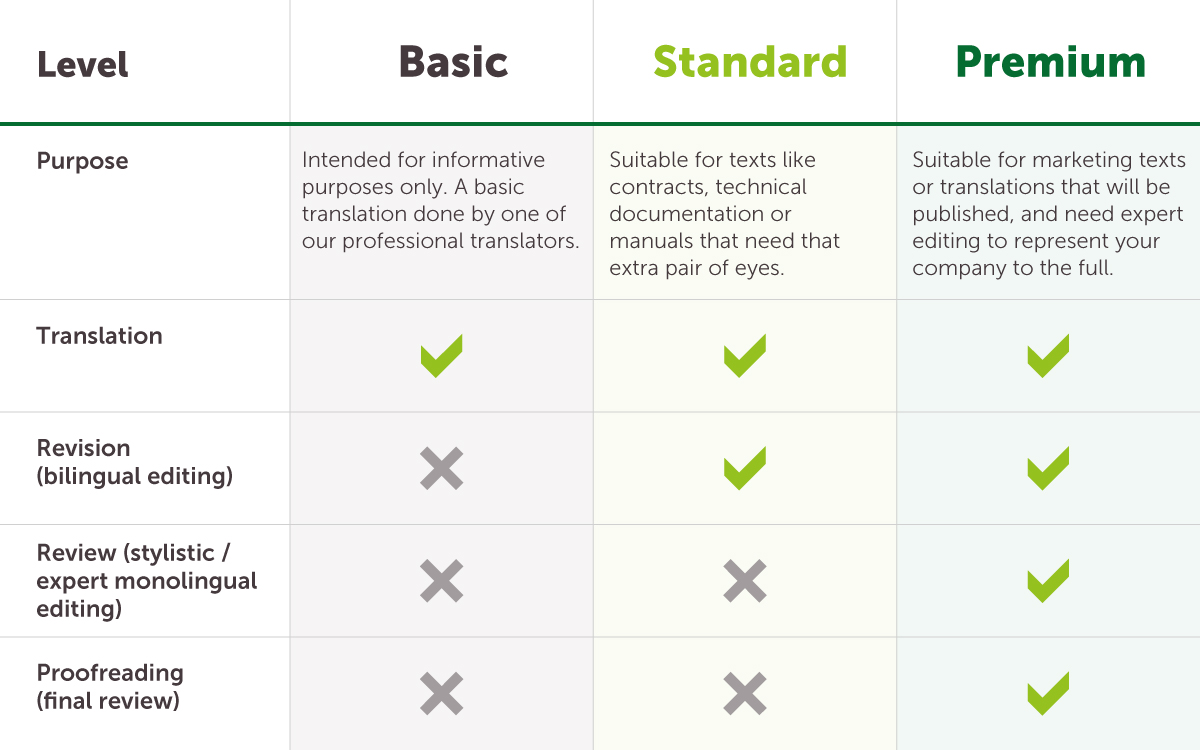 BASIC
A BASIC level of quality is recommended for texts that clients will edit themselves or for clients who simply want documents translated into a foreign language for their own personal needs.
This is the easiest and fastest translation at the lowest price, and as such, we do not recommend it for publication. It may be less readable or contain minor imperfections.
STANDARD
For translating contracts, technical documentation or instructions and manuals, we prefer the STANDARD level. In these cases, a native speaker is needed to revise the translation to ensure maximum content accuracy (correct semantics) and the use of appropriate terminology for the target text. Documents translated at this level are often used for internal purposes only, so an intense stylistic adjustment is generally not a requirement.
PREMIUM
PREMIUM is suitable for translations where it is necessary to perform all kinds of proofs, including stylistic editing and proofreading before printing/publishing. These texts are specifically intended to be viewed by the public and therefore must be as clear, readable and representative as possible. This level of quality successfully serves to meet marketing and business goals.
Our recommendations are based on more than 30 years of experience in the field of translation services, during which we have successfully processed over 200,000 projects. We have been using this three-level translation quality system for over five years now and our clients are happy with the "simplification." Thinking about the professional issues (what to do and the best way to do it) has shifted more to our side.
Our goal is to always provide our clients with the most efficient solutions and the professional advice they need to save both time and money. However, it is also very important that we have all the necessary information to fulfill the requirements of the project and the intended purpose of the translation. This is how we keep the quality of our overall services.
By providing free consultation and simplified price offers, we learn our clients' true needs and work on making the ordering process as easy as possible. This allows us to grasp exactly what the projects need and where they can save on translations.