Improving Partnerships and Translations, One Workshop at a Time

Roman Zelenka
27. 10. 2016
My vision for ZELENKA has always been one that sets us apart. Breaking the mold, making a difference, and creating strong relationships with our clients to make sure that their satisfaction remains our top priority.
With the success that followed the debut of ZELENKA ON TOUR in Budapest last year, we kicked things up a notch and once again invited team members, vendors, and VIP clients to join us on a journey of discovery and adventure: This time to Munich. The trip offered an ideal opportunity to show how communication and transparency are most effective when they form the heart of the business we do.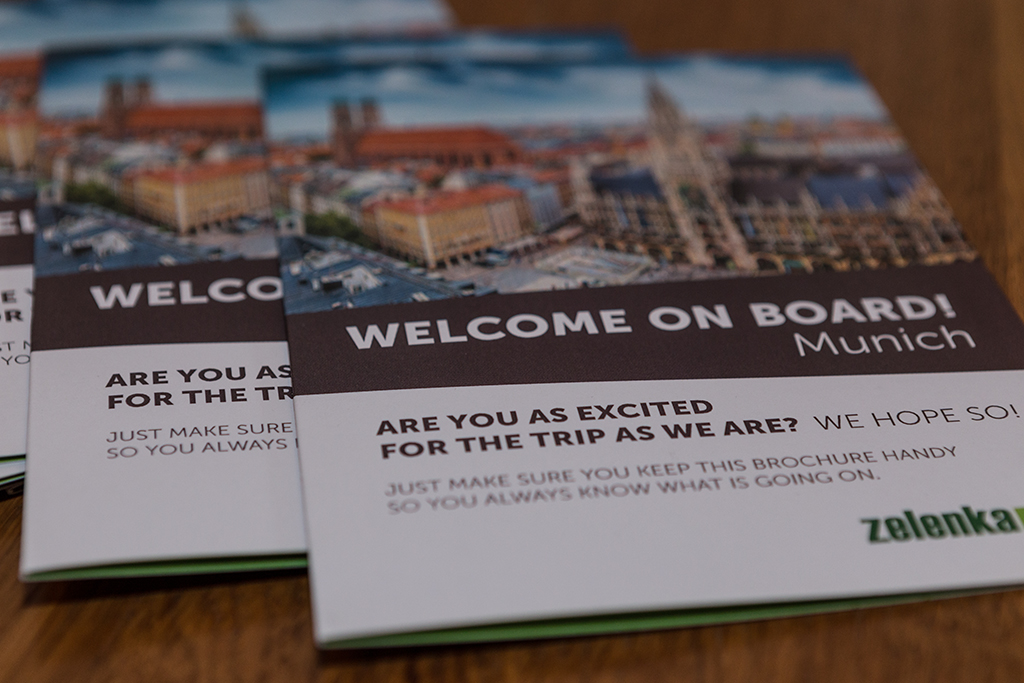 Why we do it
Communication without limits is what we constantly strive for, both internally and with our vendors and clients. ZELENKA ON TOUR evolved from this time-tested approach. An annual event, centered on client and vendor appreciation, bringing all the behind-the-scenes faces together to get acquainted in an informal way. This tradition of bridging the gap between professional and personal relationships has always led to more productive and enjoyable partnerships with our clients.
How we did it
For this year's event, our planning team brought together a wide range of activities. A day of exploring Munich and the infamous Oktoberfest gave us a laid-back chance to mingle and get acquainted with everyone on the tour. The much anticipated workshop, followed by an adventure-packed day of rafting, showed that teamwork is a universal concept! We then topped off the event with a relaxed dinner and a great countryside party.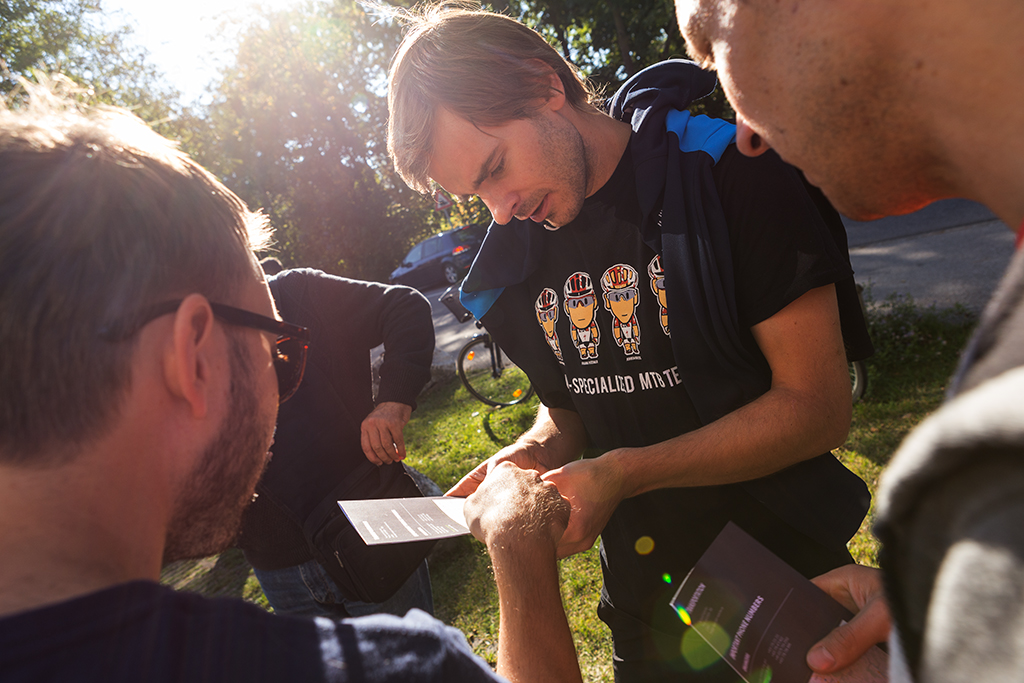 "My feedback on the event is entirely positive. I really liked the combination of informal networking and discussions of issues affecting our industry, as well as the (even more) informal opportunities to get to know the ZELENKA team and to socialise with our industry colleagues. I wouldn't change a thing!"

Sara Summers, Language Line Solutions
Want to see what Sara is talking about? Maybe the video below can help. :)
Brainstorming to a brighter future
The ultimate highlight of the weekend was how well the workshop came together.
With such a multilingual and multicultural group, and of course being an international translation agency, it seemed only fitting to ask some guests to introduce themselves in their native languages. After all, no workshop is complete without some "formal" introductions, right?
Light-hearted introductions in Russian and Swedish, among many other languages, set the humorous-yet-professional mood that endured for the rest of the workshop. Two of our very own team members also impressed the crowd with their knowledge of Japanese and Mongolian, adding a dash of exotic Asian flavor.
The entire workshop not only created an atmosphere that showcased the perfect balance of work and play but its structure also kept everyone in the same productive mindset. This became apparent as soon as the first set of warm-up questions were thrown out.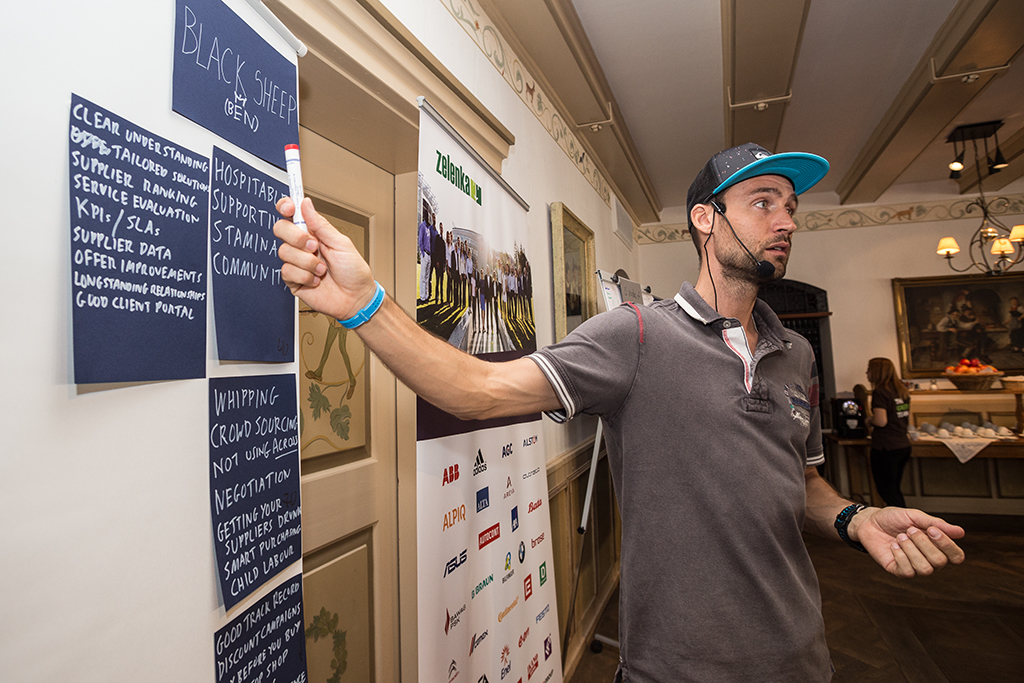 The challenge for each group was to come up with the most unique and interesting answers to common industry questions. Their responses were really interesting. Let's have a look!
Discussion #1 - "What can be done to lower the price of a translation?"
This topical question came with some of the usual answers: from comfortable deadlines to having terminology lists in place. Everyone in the room already knew this, though. Our aim here was to dig deeper, brainstorm, and come up with thought-provoking (and even debateable) ideas.
And the teams did not disappoint, with responses like "smart purchasing," i.e. getting the most out of multi-tiered services. This might seem like a simple, obvious factor to some, but maybe that's exactly why it is rarely given the attention it deserves.
"Clear instructions" was another popular response. Everyone seemed to have at least one horror story about the time wasted on extra research and needless back-and-forth between translators, proofreaders, project managers, and the client. Bottom line: Clear instructions lead to more cost-effective translations!
A personal favourite was "good, transparent communication" since this is our motto! The advantages of effective communication go well beyond the influence it has on pricing, especially since it fosters stronger interpersonal client and staff relationships.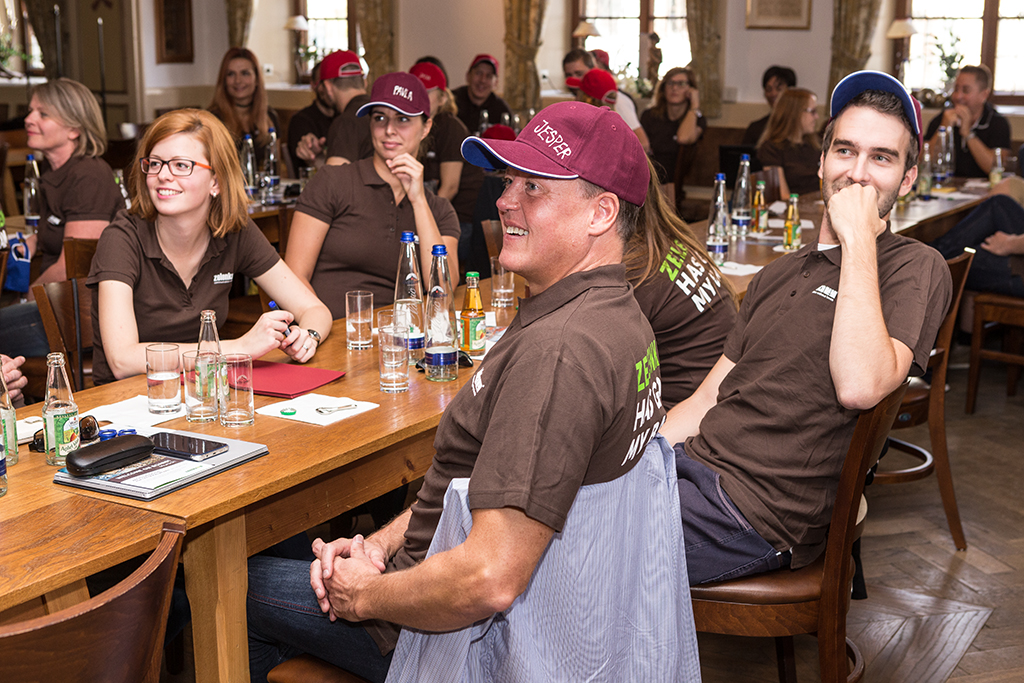 "Speaking as a company owner myself, I feel an immediate affinity with other company owners who clearly care so much about staff welfare and client/vendor relations… I have no doubt that [an event like this] "does what it says on the tin", i.e. strengthens ALL of those relations (even if it is of course very difficult to "measure")."

Jesper Sandberg, Sandberg Translation Partners Ltd
Discussion #2 - "The best ways to win new clients"
This one brought the ideas pouring in!
The importance of that "personal approach" in business can not be emphasized enough. This simple phrase embodies everything ZELENKA stands for. Truly understanding our clients' needs means investing the time and devoting ourselves to making sure those needs are met.
Several groups came up with "loyalty bonuses," a referral reward system popular in a lot of industries these days. While this approach makes sense for some companies, I hesitate to jump on the bandwagon. Our success is built on a history of lasting, dynamic relationships, which simply doesn't translate into a point system. Rather than placing a point value on how much a client helps us, I prefer to look at our partnerships as friendships: We help them, they help us. And events like ZELENKA ON TOUR are exactly how we show our loyal clients how much we appreciate them.
Another interesting way to make a lasting impression in such a competitive industry was for translators to "get involved in public speaking forums." One of the attendees summed this up well:
"The need to make ourselves heard and establish ourselves as experts is more pertinent these days. We need to start making industry-specific clients aware that we know what we are doing and we do it well!"

Anne Backman, AAC Global
Translators tend to struggle with being wrongly considered as jacks-of-all-trades, possessing a general knowledge of many subjects, but an expert knowledge of none. Anne makes a fair point: We need to take a more active role in the conversations happening in the industries we translate for.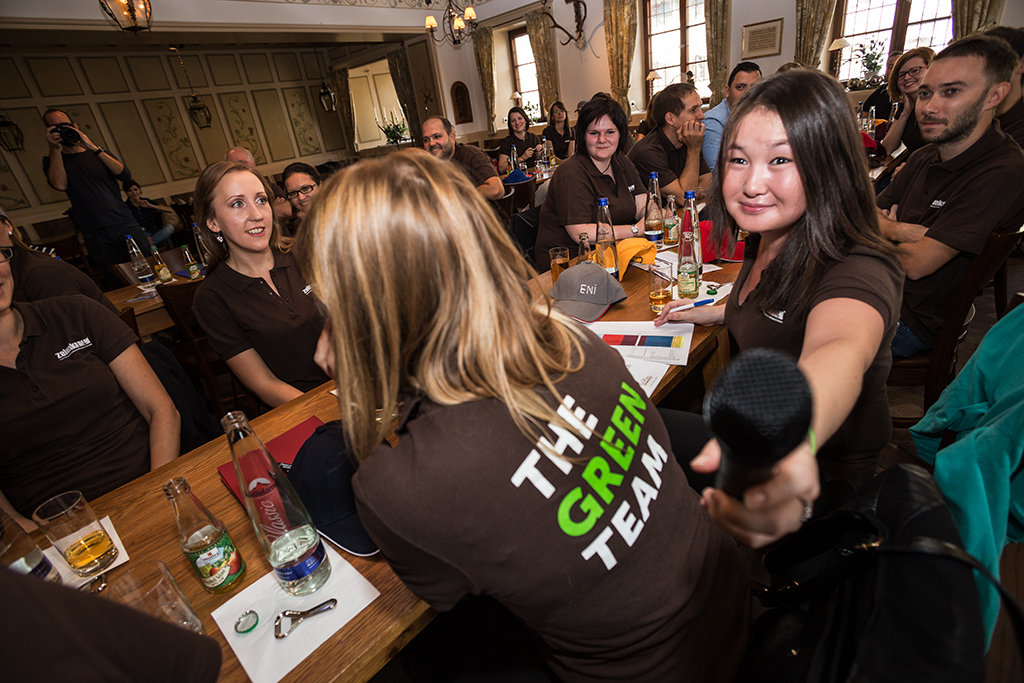 Discussion #3 - "Increasing translation value"
As the brainstorming gathered momentum, this particular topic got a stream of responses that were GOLD! One team came up with "supplier ranking" as an effective way to ensure that only the best translation teams, tried and tested, are paired with the right client in specific fields.
Another team suggested that becoming an "expert in the eyes of the client" is just as important. Taking the necessary steps to put together teams that are experts in their respective fields and fully understand the content is a surefire way to increase the value of translations!
The mention of "cross-functional teams" brought up an excellent point of discussion.The advantages of having a team in place that can bring a combination of knowledge, expertise, and experience all wrapped in one is a recipe for value-added translations.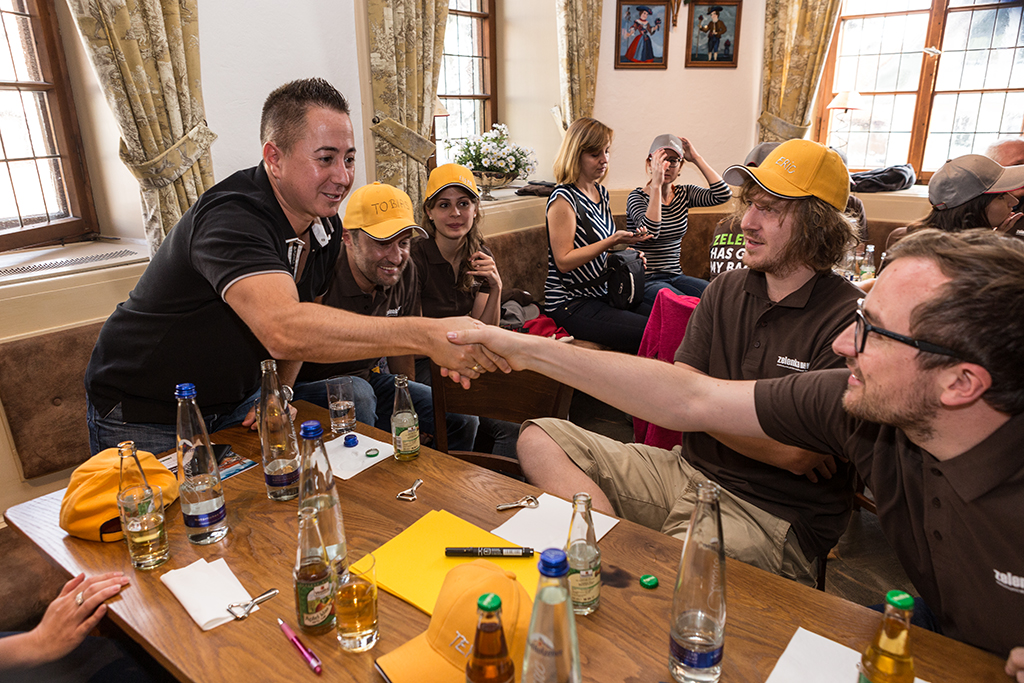 Panel discussion - "The future of the translation industry"
Technology is rapidly and constantly changing, understandably creating fear and uncertainty about the future. This is especially true for the translation industry, as anxiously wonder if their profession will be phased out to make room for advancements in machine translation.
While MT is, indeed, gaining some ground in how the industry is being shaped, it was obvious in the last phase of the workshop that the general consensus of what the future holds for the translation industry was somewhat agreeable. To quote Jesper Sandberg, "The future is BRIGHT!"
The role of technology was not limited to MT and the effects on the future of translations. We also touched on the rate at which technology is generally changing every aspect of business and the possible negative effect of "increased transparency" in an already competitive market. This point caused a bit of a back-and-forth, with some agreeing that this could make getting new clients more difficult, while others didn't see it as a threat at all, insisting that transparency is what keeps good clients.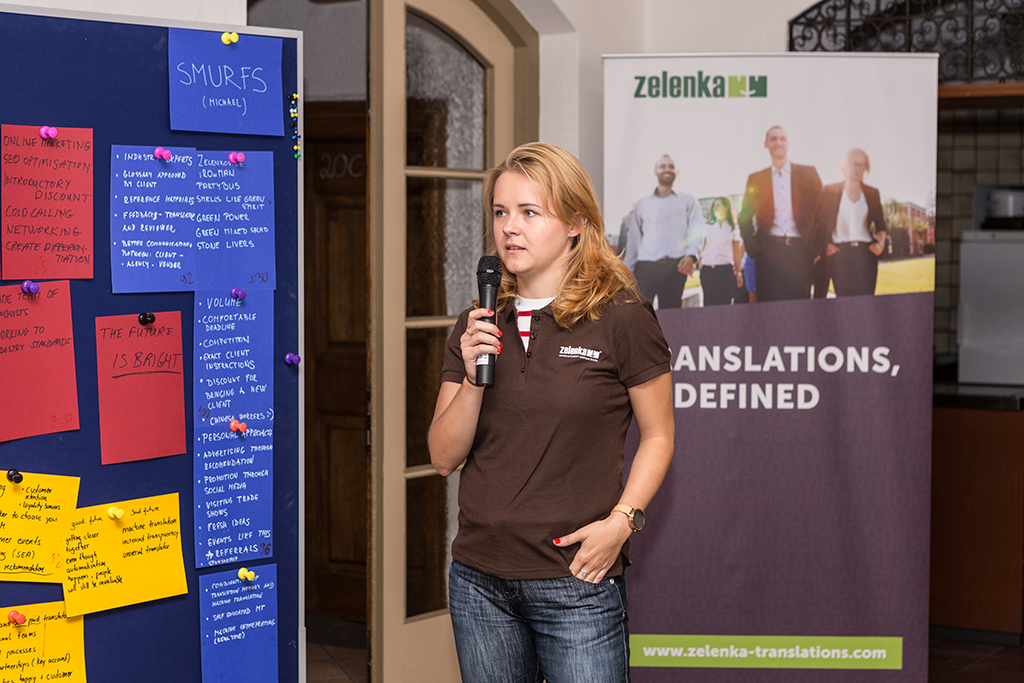 "The future is in technology but the human touch will always win the game."

Jana Strbova, Lenovo
Food for thought
This year's ZELENKA ON TOUR went far beyond everything I had hoped it would be. The care we took in planning the event and inviting our best clients and vendors provided us with feedback and insights that you simply can't put a price on. So now the question remains: What else can translation companies like ZELENKA be doing to make our clients' lives easier and add value to the work we do for them? If you're not already thinking about your business in this way, then I encourage you to start. I've seen a lot of good come out of approaching business this way, and so will you and your clients.