ISO 17100 - The Globally Recognized Standard for Translation Services

Zbyněk Zelenka
15. 5. 2017
We've become a certified provider of translation services, conforming to the international standard, ISO 17100.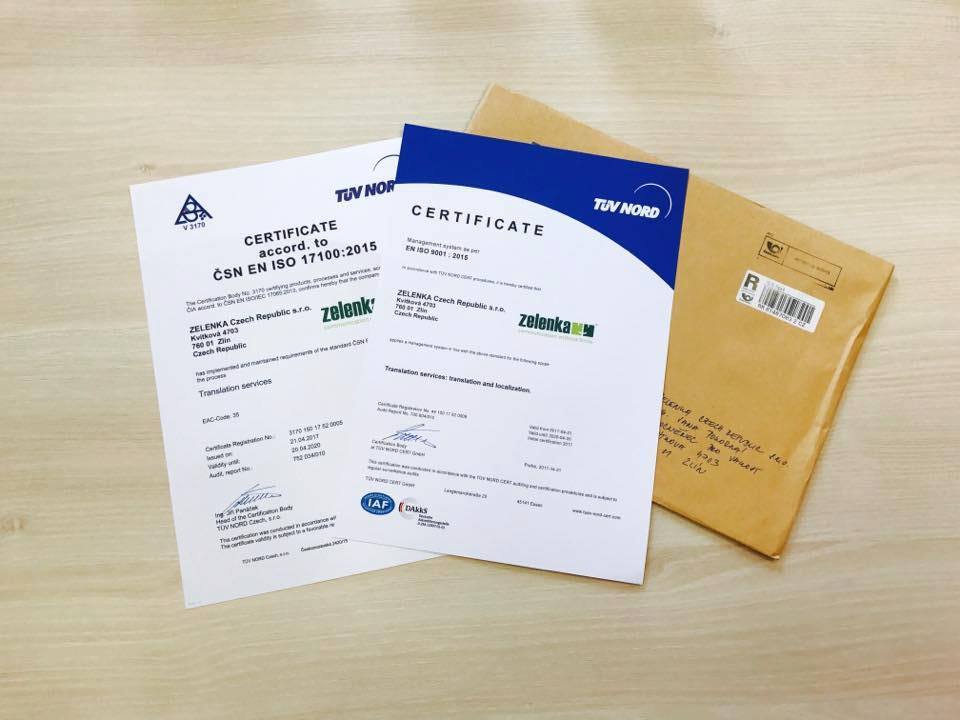 What does it mean for our clients?
What rules and procedures do we, as a translation company, need to follow?
What qualifications and competencies are required from a translator?
Obtaining a certificate doesn't necessarily mean a translation company is a perfect service provider. There is a much higher probability, however, that:
translations will be of a higher quality;
translations will be provided by qualified translators and project managers, as well as other duly qualified professionals;
source texts and their translations will be treated as confidential information that will never get into unauthorized hands;
clients will receive their translations on time;
only correct (and approved) technical terminology will be used.
This guarantee of quality results from the fact that a certified translation company must comply with the rather strict requirements of the ISO 17100 standard. These primarily include:
cooperation with qualified and competent linguists (in terms of education and practice);
utilization of appropriate technical and technological resources (particularly CAT tools, communication tools, software, hardware, information systems, etc.);
management of the translation process in accordance with all requirements of the ISO 17100 standard (including handling price quote requests, post-production processes, billing, and providing feedback);
securing confidentiality of information;
regular surveys of customer satisfaction;
adherence to obligations towards clients and vendors.
Another important factor is that translators (and revisers) must be compliant with the required skills and knowledge necessary to complete their tasks, as well as linguistic, cultural, and technical competencies. Moreover, a translator must meet at least one of the following criteria:
a recognized graduate qualification (graduate = first degree level of academic award issued by a recognised institution of higher education) in translation (in some countries may be referred to by a different name such as linguistic studies or language studies) or equivalent (if the course includes translation training);
a recognized graduate qualification in any other field from an institution of higher education plus two years of full-time professional experience in translating or equivalent;
five years of full-time professional experience in translating or equivalent.
These are, in short, the basic requirements for translation services providers to be compliant with the ISO 17100 standard.
The compliance of our services with ISO 17100 and ISO 9001 has been certified by a globally recognized certification authority – TÜV Nord. At ZELENKA, we all strictly follow the rules set by these standards in our everyday practice, which should reflect in further improvement of the quality of our translation services.
But it's not only about the quality of the processes and translations. Our primary goal is to build close, proper, and open relationships with our clients and vendors – at a family level you might say.