Localization of E-learning Materials for Corporate Training

Lukáš Matlak
31. 7. 2020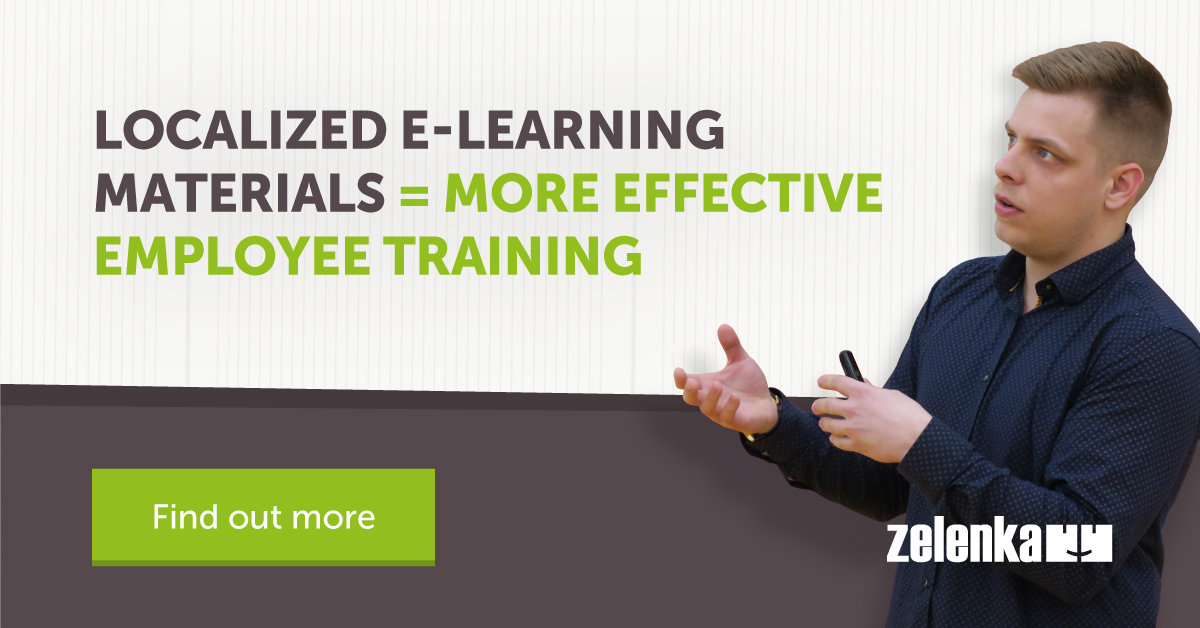 Why is e-learning important?
Today's global online world is changing the way we work. Flexible workplaces are becoming a standard and this entails more than just remote work and long-distance communication. It has also fundamentally changed the way employee and vendor training is done.
That's why many companies have been introducing new tools that allow effective learning at any time and from anywhere in the world, appropriately called "e-learning". The context of recent months has made this need even more relevant in many industries.
What is e-learning?
E-learning is a form of education and training that utilizes computers and modern technology. It may take various forms, such as:
electronic documents and presentations (though this approach is quickly becoming outdated);
videos;
commentated presentations;
interactive courses;
quizzes;
special applications, etc.
One of the primary advantages is the fact that e-learning solutions save time and money when compared to traditional "paper" methods. The trend in companies around the world is a gradual shift from voluminous texts to interactive audiovisual content.
A vast majority of e-learning content is created using specialized software, such as:
Storyline;
Adobe Captive;
Articulate Rise;
+ a number of different web-based solutions.
Although the language skills of our modern-day working generation are presumably better than ever before, surveys suggest that 90% of people prefer training in their native language.
Employees of companies that translate or localize their e-learning courses gain knowledge faster and in a more engaging and convenient way.
Translation vs. localization
Whatever e-learning solution you use, the success of the final product depends on the correct localization. The standard translation approach may simply not be enough with e-learning materials.
The terms translation and localization are often confused and used interchangeably. In fact, they represent two different approaches.
While translation happens exclusively at the textual level, localization draws heavily on cultural aspects of the target audience. A simple example of this is the conversion of units to those used by intended consumers (imperial vs. metric).
Names, titles, companies, URLs, emails and any other "foreign" elements are replaced with suitable equivalents. This approach is sometimes called deep localization. The final product should reflect a target group's cultural characteristics and give the impression that it was created specifically for them.
E-learning localization process
1. Let's discuss your expectations
At the beginning, we analyze your needs and the e-learning tools you use (goals, training format, specific platforms, etc.).
2. We find the best solution and prepare the project for you
We gather all the materials to be localized and outline the whole project process. You will receive a tailor-made quotation, and once you accept it, we get down to business.
3. We take care of the localization
All localization projects are processed using native speakers who are experts in the field your e-learning project deals with. We work with over 7,000 linguists from around the world who meet the requirements of the internationally recognized ISO 17100 standard. This ensures your localized materials will be of top quality.
4. We thoroughly test the final product
We make sure everything runs smoothly and the localization fits the purpose.