Modern Technologies in Translation

Michael Borkovec
3. 10. 2017
The days when classic text editors, such as Word or Pages, were used in the translation process are gone. Modern translation agencies utilize a wide range of technologies that make life easier for translators, project managers as well as clients.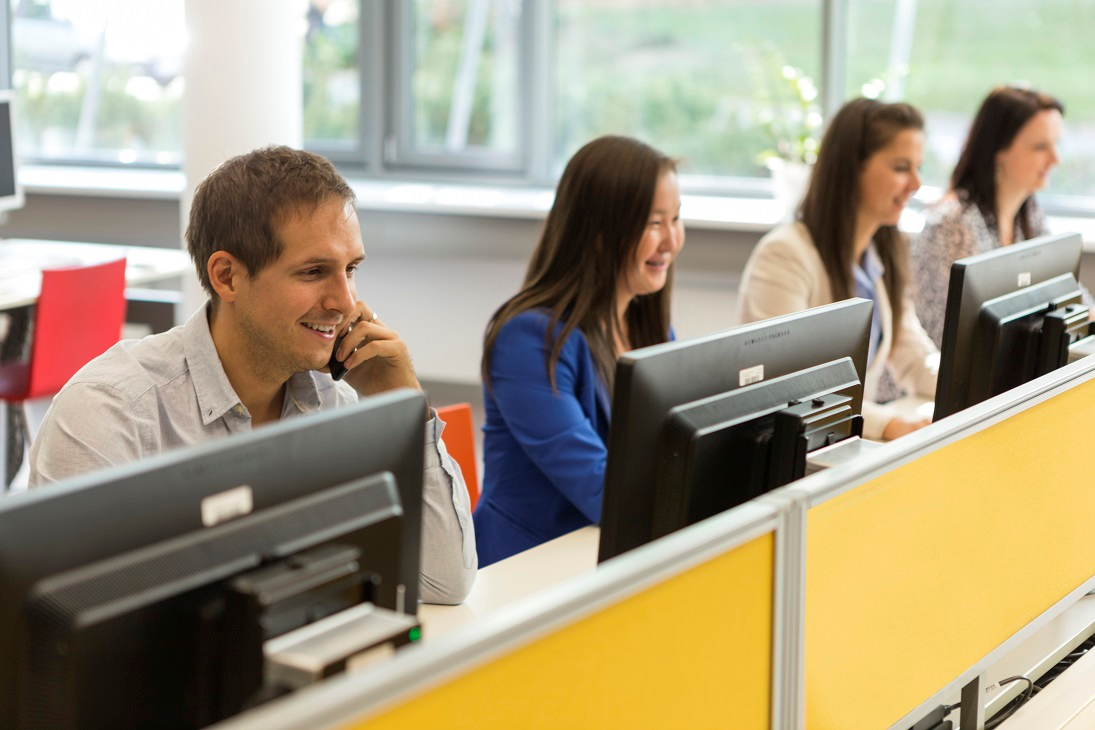 When yesterday is too late, delivering top-quality translations to the client as soon as possible is an absolute must. The good news is that this is all manageable, as long as you build on the following four pillars of modern technology:
CAT tools (computer-assisted translation)
Machine Translation (MT)
CMS – Content Management System
TMS – Translation Management System (information systems and translation service portals)
At ZELENKA, we believe that the appropriate interconnection of these technologies is the key to truly effective cooperation of all parties involved. This is why we are constantly looking for more efficient solutions to save time and money.
Let's have a brief look at the history and "state of the art" tools in the translation industry.
1.

CAT Tools (computer-assisted translation)
The very first computer-assisted translation software made its appearance almost 30 years ago. Its basic function was to store the translated texts in a translation memory and later use that memory to make translating recurring text easier and more efficient. This feature allowed translators to greatly accelerate their work, but the development continued from there.
In the early nineties, CAT tools introduced the option of using integrated term bases, which dramatically increased the consistency of translations (using the term base, specific or technical phrases are all translated identically).
At the turn of the millennium, CAT tools went online, meaning that translators could work from anywhere and automatically save their work to a secure remote server.
This leap also played a monumental role in remote team development, allowing more translators to work on one project simultaneously and in real time. This solution introduced many features that streamlined the entire process by allowing translators immediate access to a client's translation memory and term base, a crucial feature, especially when working on large jobs. This not only increased the rate at which projects could be completed but had a tremendous effect on output quality.
CAT tools have since developed at ever-increasing speed, adding features that have made them practically indispensable in the field of translation management. Quality Assurance (QA) is a perfect example. This extensive feature alerts translators of any errors in numbers, formatting, punctuation, uppercase and lowercase letters, names of products or services as well as redundant or missing spaces or untranslated text.
This took the quality of translations to a whole new level.
CAT tool developers are still working on other modifications, for instance, for the purpose of streamlining the user interface and enhancing the range of supported file formats.
Our translators work with 15 different types of CAT tools, this presents a huge advantage when finding the right solution for each job. With the right CAT tool, translations are done much faster, in top quality and at significantly lower cost rate.
Even though CAT tools provide translators with great facilitation, some jobs may require the use of an added technology called Machine Translation (MT).
2.

Machine Translation (MT)
Unlike CAT tools, Machine Translation is not only a useful facilitator in the process of translating but directly generates a translation output. However, this kind of machine-translated text may subsequently have to be revised and edited by a human translator. This method might only be useful for large-scale projects and texts where readability and a particular communication style is of little importance.
The first functional automatic translators appeared on the market in the early 90's. They worked based on embedded grammatical rules and dictionaries (i.e. RBMT – rule-based machine translation). However, it turned out that although it was an interesting idea, the technology at the time was not able to produce high-quality machine translations. The quality was very poor, and in many cases, the meaning and context got lost in translation.
Another step in the development process of machine translation was SMT – statistical machine translation, that brought a statistical approach to automatic translation. Each sentence (word order) was created based on the probability of distribution of each word in a sentence – on the basis of underlying statistical analysis of texts in a particular language. The result was not very accurate but it seemed to have a more natural linguistic flow than RBMT. The combination of the two approaches – RBMT and SMT – appeared to be a logical step that could move automatic translators forward.
Yet the greatest innovation in the field of machine translation took place only recently.
The most recent introduction to automated translations is an algorithm based on neural networks. The algorithm emulates the human brain, learning to parse words in the overall context of the sentence while comparing the similarity of individual words and phrases. This results in more accurate machine translations than ever before.
Despite how impressive it may be, machine translation is still far from replacing human translators, specifically their sense of context, grammar rules, and perfect expertise.
So far, we have had very little use for machine translation in our translation processes. At the same time, we realize that the technology is constantly changing and improving. So, if it eventually proves to be just as efficient, in terms of quality and speed, we would definitely consider ways in which to utilize it in our processes.
3.

CMS – Content Management System
When it comes to translators and translation agencies, content management systems are being a bit overlooked. Nevertheless, it is CMS in particular, that brings structure and order to digital content work, including translations.
Content management systems are available as a desktop application or directly online using a web interface, through which users can easily manage all digital content (web documents, marketing texts, manuals, etc.). In a nutshell, it is a comprehensive system for managing texts and other digital content.
These days, a CMS is the most frequently used method of uploading the translated texts, making it the best possible solution for customers. This a great step forward in comparison to previous processes, in which it was necessary to upload the texts directly into the source code of the website.
Content management systems have also undergone further development. For example, the launch of the DITA model (Darwin Information Typing Architecture) represented a significant milestone – it defines the basic rules for the structure of created documents.
In practice this means, for instance, that the author writes the text into a CMS (like a product or service description), publishes it on the website and is capable of creating a manual using the same text. This eliminates the need to write the same text twice, and at the same time, significantly increases the consistency across all corporate texts. When the text is updated, it is sufficient to make the change only once.
If you would like to get more information on CMS, please feel free to contact us, we will be happy to discuss the options with you.
4.

TMS – Translation Management System – information systems and translation service portals
Translation Management Systems are fundamental to the effective management of every translation agency. In their early stages of development, it basically contained a database of customers and translators, but they have since seen major improvements. New functions and features were added to include invoicing and billing, various statistics, quotations and complaint management.
Information systems, like the other tools mentioned above, made the smooth transition to the online world. Customers and vendors can now access them from anywhere at any time, cooperating with the translation agency in real time. This greatly facilitates and speeds up the entire translation process.
We could easily say that there is not much more room for further development of information systems and portals (apart from speeding up or streamlining the user interface). The next logical outcome of the whole development process of modern translation tools is integration into a single platform.
The comprehensive interconnection of all the above-mentioned components may look like this:
An author creates a text in a CMS, which is connected to the translation management system (TMS). Based on the interface, the information system subsequently analyzes the text in relation to the translation memory and term bases. The customer immediately receives a quote, and upon its approval, the translator can start working on the translation. This can significantly reduce the delay before initiating the translation work.
Additionally (if the customer wishes so), it is possible to connect this solution to automatic translators and thus significantly reduce costs.
Based on the state of modern translation technology, we can predict that emphasis will shift to a mutual integration of all the above-mentioned technologies. It might be a tough one, because the market offers different kinds of CAT tools, content management systems (CMS), as well as translation management systems (TMS).
Yet, we assume this to be the future trend in the translation industry and we will do everything we can to be well prepared for it.
Modern translation technologies make life easier for all
At ZELENKA, we keep up with modern trends and consistently find ways to facilitate and make the entire translation process more enjoyable, not only for our clients, but also for our vendors and project managers. Modern technologies contribute to this significantly, particularly as they allow clients to:
Approve or create terminology online, even for jobs that are in progress – smooth cooperation during the data mining and terminology approval processes.
Real-time access to questions from translators
Revise translated texts online or even check ongoing jobs – in a user-friendly environment accessible through any web browser from anywhere in the world.
Automatically upload texts for translation – the system automatically analyzes the texts and provides information on the price and deadline. If necessary, it automatically assigns the translation job to a translator and subsequently delivers the translated texts to the client.
Significantly reduce costs by integrating the tailor-made machine translation. The connection to TMS and CAT (translation memory and term base) makes this process far more accurate in addition to maintaining the client's know-how. This prevents the transmission of texts to third parties, fully maintaining confidentiality.