Rate us and win Moravian specialties
8. 1. 2013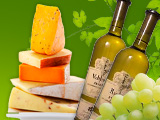 Those clients who placed at least two orders with us during 2012, and who will have rated their client satisfaction with our services in 2012 by 21/1/2013, will classify for the draw for "Moravian specialties", which will take place on 25/1/2013.

1st prize: Basket of goodies worth CZK 2,000 (exclusive wines, cheeses, plum brandy etc.)
2nd prize: 6 Bottles of Exclusively selected wine from the Straznice Château cellars
3rd prize: 0.5 l of homemade plum brandy (Zelenkovice)

The evaluation of client satisfaction is very important to us! Our aim is to in what areas we can still improve and so provide better translation services to you.

The form can be found on the client portal (login on the upper right corner of our web www.zelenka-translations.com). Rating may be made after login in the section "satisfaction evaluation".
If you cannot remember your login information, you can request it at translations@zelenka.cz.