We are implementing a new price quote system to make it more user friendly
20. 9. 2013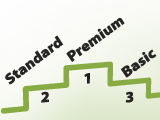 Our company is the first one in the Czech and Slovak Republic. We decided to accommodate our customers' requests to simplify the price quotes. We consider the resulting new system much clearer and acceptable.
Each client knows what purpose they need to use the translated document for and thus can choose one of three basic options. From a basic translation without any proofreading to a full-service translation necessary for e.g. marketing purposes.
We have created three main options: BASIC, STANDARD and PREMIUM.
Briefly said, if you just want an informative translation, order the BASIC quality. Do you need technical documentation to be translated? Order STANDARD quality. Do you want to translate a promotional flier? Order the PREMIUM quality. Each customer receives more detail (but still brief and understandable) information on what each service includes in the price quote.