Mission Impossible? Not When You Have the Right Vision

Roman Zelenka
4. 12. 2017
ZELENKA Events: Bringing our VIP clients, translators and well-known industry experts together to share experiences and make the translation process smoother for everyone.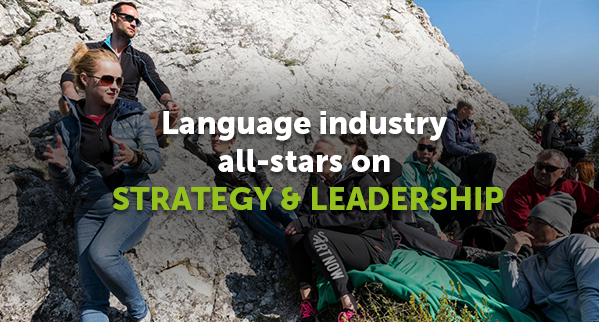 This year we went "back to basics" with 70 industry experts, colleagues, vendors, and VIP clients from some of the world's top brands (Google, Lenovo, Adidas, Continental...). This meant dividing into 5 groups, each focused with exploring the human-to-human approach in a specific aspect of the language industry. And what did we find?
"When ZELENKA started out, we aspired to the values and business strategies laid out by Tomáš Baťa. His unique vision emphasized "Service to the public". Many of our values and traditions are inspired by this great vision!" - Zbynek Zelenka
This expert group, led by Jesper Sandberg, focused on Strategy and Leadership. It is the inspiration for our final article in this five-part series. The series also features input from industry experts on Language and IT Tools, Project Management, Sales and Marketing, and Vendor Management and HR.

Take a look at what we got out of this one!
The main focus was on mission and vision; who comes up with it, how it gets done, how it gets communicated and mainly, how to get the entire organization to live by those values and standards. These challenges arise during the implementation phase and the bigger the company, the harder it is.
Prominent values
To kick off the discussion, each member was tasked with identifying 5 prominent values from their company and talk about how employees embody and live by those values. Surprisingly enough, there was a lot of overlap, even between companies from completely different industries:
Friendliness: Adopting a very deliberate way of interacting with clients, colleagues, and vendors.
Empathy: The willingness, effort, and ability to understand someone else's perspective
Reliability: Giving your word is not an empty gesture, it has meaning and weight
Challenges: Face them openly and directly
Goodness: Not so much about being "well qualified" and "competent", but more about just being a generally good person who assumes the goodness in others
Trust: Believing that vendors will be loyal and you can openly share information about your clients with them
Loyalty: That clients are fully aware of the fact that forming sustainable long-term relationships is more important to you than profits
Further discussions led to sharing more aspects that contribute to a company's success. And apart from the values that were shared above, we heard how company culture played a pivotal role in the overall success of any establishment.
Getting it right!
This all starts with your hiring processes, a point that was highlighted in our Vendor Management and HR article, which emphasized hiring for attitude, not skills. Skills can be learned, but personality and attitude are hard to change.
A step in the right direction is to make diversity a priority. Taking a vested interest in your employees may be challenging, but it is one of the most beneficial things you can do to develop a healthy, successful company. Diversity, whether we are talking about race, age, faith, education, sexual orientation etc., plays a critical role in creating an environment flush with innovation and inspiration, which feeds directly into a thriving company culture.
We heard about the monumental advantages of a rotation system. By creating the opportunity for employees to try their hands at different positions not only keeps them challenged and interested but gives them a chance to explore where their real talents lie. This also opens up avenues of discovery in how to work together to nurture those talents and create a safe environment for employees. An environment that:
Encourages out-of-the-box thinking and the bravery and self-confidence to do so
Welcomes failure; we make mistakes, we learn from them and move on as quickly as possible
Fosters emotional strength
Enforces a comfortable understanding of "underpromise/overdeliver"
Hinges on honesty and openness with each other and customers
Chris Phillips contributed to this theory with some invaluable insight taken from his years of experience in the industry. An excellent go-to solution for the smooth implementation of good leadership is practicing openness and transparency. Complete openness with employees and having the courage to admit weaknesses and failures within the company so that any issues can be addressed head-on and by getting the whole company behind the efforts in doing so.
Don't miss the other four articles packed with knowledge from language all-stars on how to improve your business! -> http://www.zelenka-translations.com/news/complete-series-of-straight-to-the-point-zelenka-event-2017-articles