Translations and Language Consultancy

Zbyněk Zelenka
18. 11. 2016
Why is consultancy so important? And how can it help you?
Simple. Language consultancy helps us work together to improve the quality of your translations while also reducing your expenses.
It all comes down to four basic principles: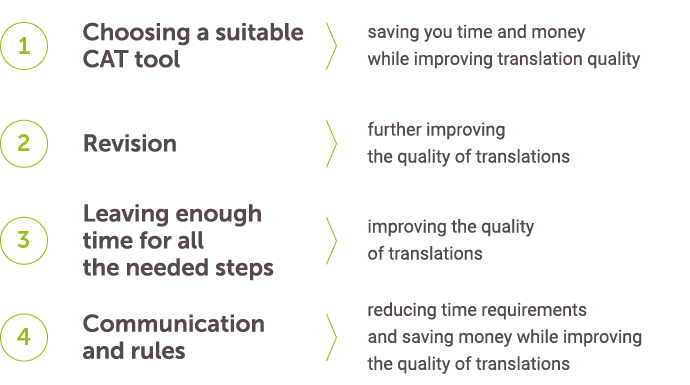 1) Choosing a suitable CAT tool
The first thing we usually notice when we start consulting a client is that they are using CAT tools that are not suited for the given job, or they are not using any at all!
This is the first and absolutely most crucial thing we can give you advice on, i.e. which CAT tool to use, when to use it, and why.
With your translation needs in mind, we'll explain the advantages and drawbacks of specific CAT tools (principle, functionality, connection to dictionary, QA tools, translation memory creation, etc.).
We will recommend the CAT tool best suited for your project.
Using CAT tools leads to a better quality translation, faster job processing, and a lower price. For a better idea of how our advice can help you, see our website.
By the way, we will also explain to you the difference between machine translation (MT) and using CAT tools, as these two services often get mixed up.
2) Revision
There's no need to argue why it's important to have another translator look over the translated text. A translation without revision is, let's say, something like a house with no facade.
This statement is also proven by the new ISO 17100 standard, valid all over the world:
In order to achieve a quality translation, the text must be revised by another translator.
The reviser has to be as competent as the translator (education, experience, etc.) and has to have a good command of both source and target languages, as s/he checks the translation against the source text.
Simply put, if a translation is not done in accordance with this standard, its quality can suffer.
So far, this has been only about the revision, but there's also review (stylistic and expert editing), proofreading (final review), etc. The texts that undergo these types of proofreading then reach the absolute peak of quality.
During your personal consultation, we sit down with you to discuss which of these will benefit you the most, as well as when and how to use them.
We also use specialized tools for QA checks. While they aren't able to replace the intellectual work of a human translator, they certainly do help with the process.
3) Leaving enough time for all the needed steps
Translating is a multi-phase process. A high quality translation is only possible when every phase is attended to properly. Each of these phases consists of several steps (from an analysis of the source text to translation and final check). We can show you how to plan a big translation project and what things to remember.
The more detailed the schedule, the more money you save.
Without enough time, even the most important phases don't get the attention they require, i.e. revision by another translator (see above) or harmonizing the terminology or stylistics. When there's a tight deadline for the project, several translators have to work on it simultaneously and, at the end, one person has to harmonize the terminology and stylistics of the whole project. This is why a little extra time can go a long way to producing a top-quality translation.
During the consultation, the deadline we propose is always the shortest one possible that lets us guarantee the quality and value your project needs.
Translators and revisers are only human beings and their work cannot be done faster without sacrificing on the quality of the translation. All the processes in our agency are precisely planned, and we cannot skip any of the operations if the quality is to be kept. Sometimes, though, our clients require such a tight deadline that we hesitate whether to accept the job at all.
We will explain how much time your project requires and how to save as much time as possible while keeping the final quality high.
4) Communication and rules
Communication and harmonization of rules in big, global companies are often complicated tasks. Sometimes it is difficult for the client to agree within their company on the rules for conducting tenders for translation jobs, communicating with contracted translators, stylistics and terminology, assessing the quality of translation, delivering feedback, etc.
Obviously, we can't (and won't) intervene in these processes.
We can, however, help with the things we specialize in.
We'll harmonize specific rules for stylistics and terminology. It's been proven in 100% of cases that, for big companies, this work pays off.
We'll help you create a style guide for individual languages.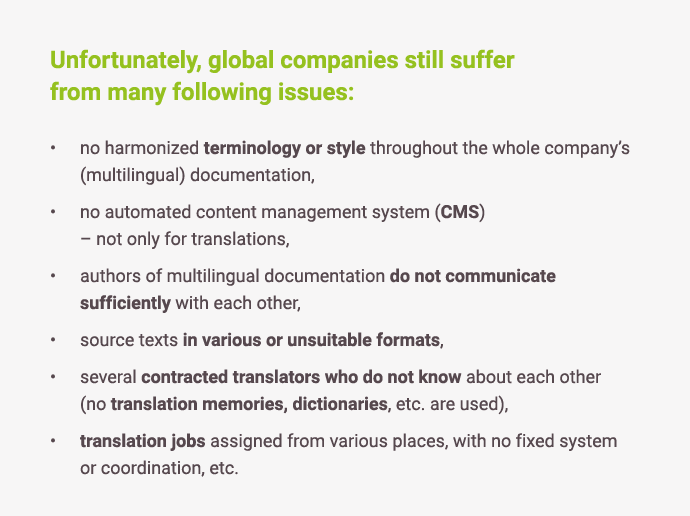 These are the issues we discuss with our clients, and very often we succeed in finding a solution and improving their current situation.
An independent expert's opinion may introduce new ideas.
We are ready to come to your company and give you technical advice on issues related to company documentation and translations. Of course, we can discuss them over the phone, but a meeting in person is always better.
This will cost you absolutely nothing, and can help you save millions.