Client satisfaction with our service ranges from excellent to very good
13. 2. 2013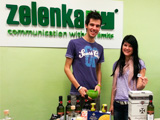 On 15 January we drew the winners of the "Moravian Speciality" competition in which customers could participate by completing a satisfaction survey.

The following winners were drawn:
1st prize (Moravian specialities) goes to Mrs Christine R. from Germany,
2nd prize (exclusive set of wines) goes to Mr Christian M. from Germany,
3rd prize (Zelenka plum brandy) goes to Mrs Zuzana M. from Slovakia.

We would like to congratulate all winners and we hope that they enjoy their prizes! :-)

The overall evaluation of our service, as judged by our clients, again ranged between 1 and 2 on the scale, i.e. from excellent to very good. We are extremely happy about this and feel motivated to continue improving our services.

We would like to thank all clients who participated in this survey and we believe that the competition was a fresh, interesting event and a motivation for the assessors. Our company is carefully processing the information received. Obtaining good marks is always a pleasure and the less good ones indicate areas where there is room for improvement.