People of ZELENKA - Juraj Porada
20. 6. 2022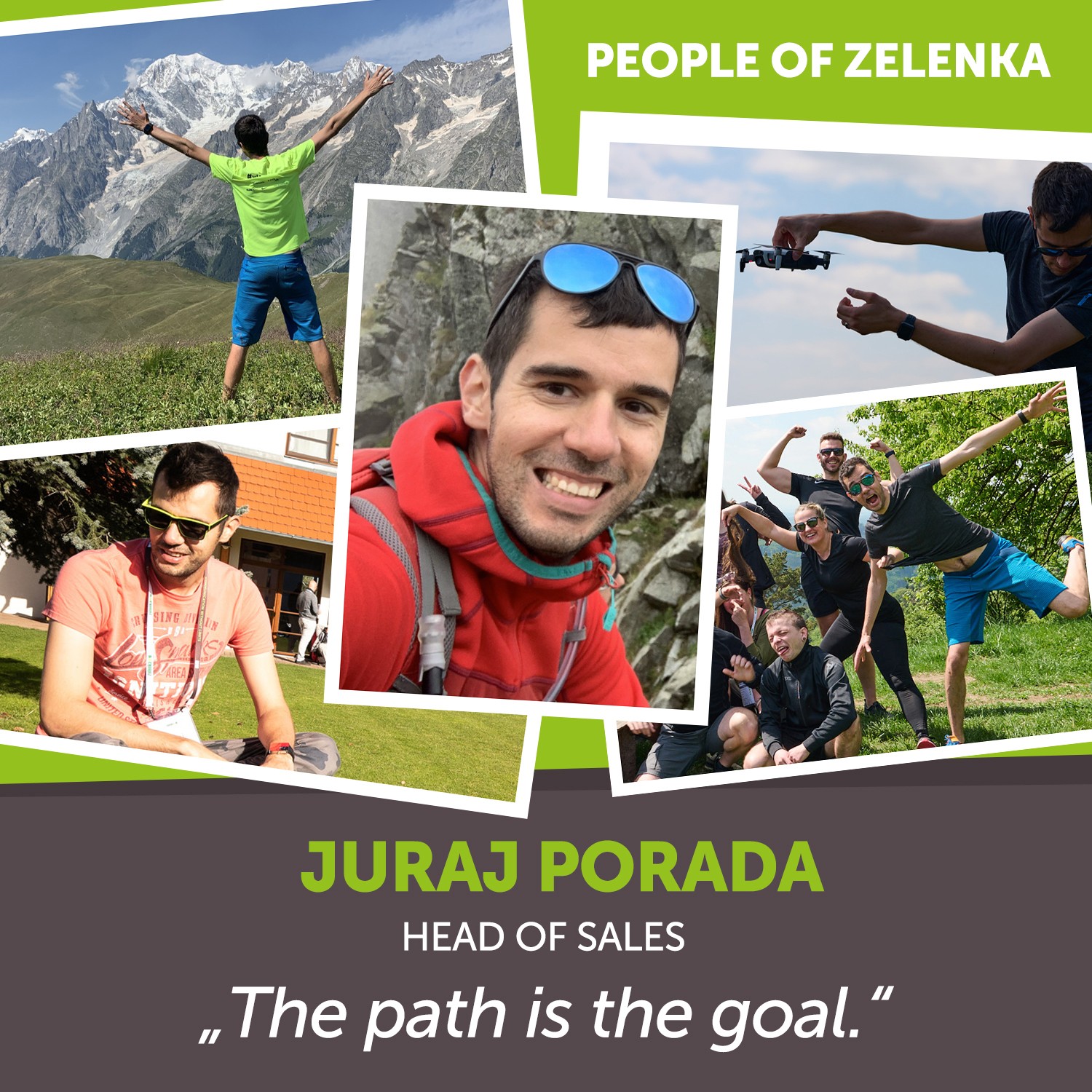 If you hear roars of laughter in our halls, there's a fairly strong chance they're coming from Juraj, our Head of Sales. As he's an experienced veteran, our next brief bio has to go to him. After all, he recently celebrated his eleventh year at ZELENKA.
"It's gone so fast! Those eleven years ago, I originally signed up for the position of salesman at the ZELENKA language school, but since I'm a Slovak, we agreed on a post in the translations department, and I started seeking clients on the Slovak market," says Juraj of his beginnings.
What surprised and pleased him at ZELENKA right from the start was, he says, the friendly, even family atmosphere and the chance to meld my career with uni, and much later with work as an alpine guide as well. The opportunities for continuous development and our adventurous company events are important for him too.
"I find Sales really fun, but to gain a broad view, I also tried out work as a project manager here. Since then, I've had all the more respect towards our project managers, because I definitely couldn't handle their job long-term," Juraj notes in reference to the option of job rotation within ZELENKA. Meanwhile some of his co-workers really have found out this way that a different position suits them more, and today they're more satisfied there than in their original position.
A few years after joining us, Juraj became our Head of Sales and began leading the whole team of salespeople from the Czech, English, and German departments.
He enjoys the tricky projects the most. He likes challenges that demand creative solutions. And what he loves the very most of all are projects that overlap into serving the common good. "One time we were doing translations for Unicef; it was an app for abused children. Our translators were excited by the project, and they offered a significant discount all on their own. ZELENKA paid a major part of the costs out of its own pocket, and we employees held a collection for the rest. We finished the translations, and we had the awesome feeling of having helped something good. That project sadly wasn't launched in the end, but that's just life. We put everything into it—and maybe those texts will go on to be used and help out someday. :-)"
His slogan is clear – "The path is the goal." This goes for his mountain trekking, and at our offices too. In every circumstance, Juraj tries to maintain a good mood and pass that mood on to his co-workers and our suppliers and clients. And when trouble comes up, he stands face-to-face with it and motivates his team and all of us to do the same.
Well, and when he's not working on translation matters, he heads out on trips throughout our country and abroad, mainly into the mountains, where he gets ideas for a variety of improvements to the sales department's work and also, of course, "weaves plans to rule the world," he adds with a laugh.
"I always get the best ideas when I'm out on a tour or a trail through rocky terrain. That's why I'm very glad that our translation company regularly enables me to 'abandon' the firm in the summer, letting me guide hikers through the mountains, which is my greatest passion," notes our Head of Sales with a smile.