People of ZELENKA – Nikola Musialkova
31. 3. 2023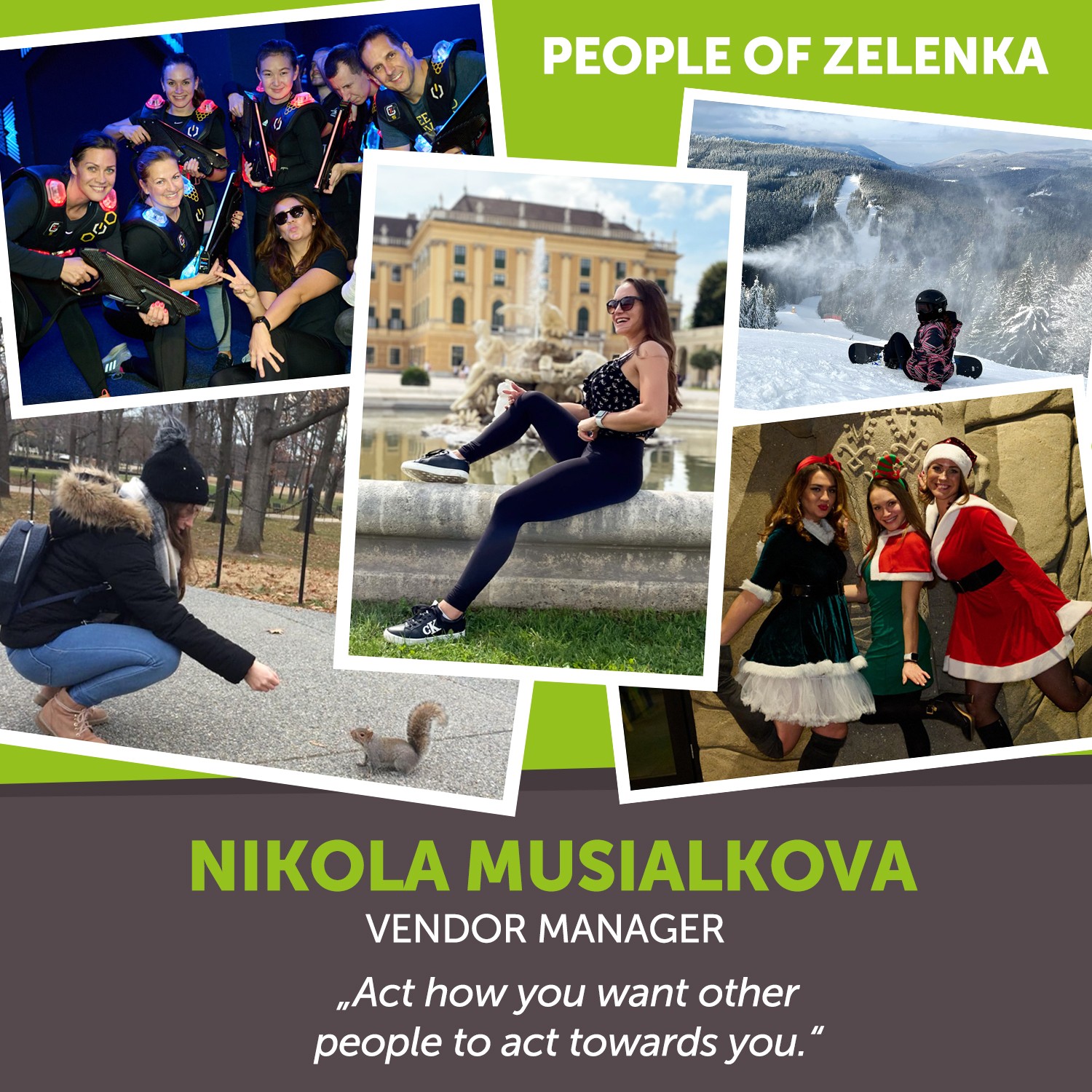 Nikola has been a part of our team for just under two years. She came on board as an assistant to the Vendors department, where she helped translators, proofreaders and interpreters with everything they needed, while seeking out new talents as well. She recently moved up to become the head of this department, so our latest bio is dedicated to her.
If you ask workmates about her, you'll get answers like: "Niki's an unbelievably energetic, positive, and clever gal who's not afraid of challenges," or "I'm really glad we have Niki on our team. I can turn to her with a question or ask for help at any time."
For the rest we'll be turning straight to Nikola.
❓ Niki, how do you remember your beginnings with us? Did anything surprise you?
After just a brief look around, I understood that ZELENKA chooses its people very carefully. Not to say we're all clones, but a lot connects us: a friendly approach towards people, a love of sports, wanting to meet even after work and chat about everything... I liked that right away – in a team like that, work really goes fine. :-)
❓ You've just moved up from the role of an assistant in Vendors to the role of its head. What does it actually include?
Above all more responsibility and quite a bit more communication. But also things like splitting yearly tasks up into individual months and overseeing their completion, so I've been practicing time management tricks a lot. :-) It's also about things like handling various situations with our translators and attending company strategy meetings.
❓ What do you enjoy the most about your new role?
I'm very communicative, so I most enjoy helping our vendors – and getting to know them in the process. I'm most fulfilled of all by the specific outcomes of my work and teammates' and vendors' positive feedback. Then I clearly see how my work has meaning.
❓ What was your last really exhausting task?
I guess the winner here was training for my current leadership role. It was, and sometimes still is, quite the fight. But I can see a real shift in my abilities, which tells me I'm probably doing something right. :-) It's definitely thanks to the teammates I have around me. Whenever I need it, I can turn to them and they help.
❓ Which vendors do you work with the best?
My best cooperation is definitely with translators; they're kind, accommodating, unafraid of challenges, and open to new opportunities. Actually it lines up with what we're like inside ZELENKA, so it's logical. :-)
❓ What was the last thing at work that really made you happy?
Hmmm... I guess the last time my inbox was empty. :-D
❓ Do you have a motto you go by?
Sure! "Act how you want other people to act towards you."
❓ What's your greatest passion – what do you enjoy? Not just at work, it can be outside of work. Your hobbies, your own projects etc.
Here the answer is crystal clear: Sports! Mainly fitness training, badminton, squash, and a few more. You might say sports is the only activity that clears my head of stress and worries. I like how in sports I'm focused on myself alone, and that time belongs just to me. And how I can decide for myself which sport I'll jump into.
And I have to mention travel! Both here and abroad. It doesn't matter if I'm heading to the mountains or the sea or on a walk in the woods. I wonder at everything connected with nature, from mountain vistas to the world under the sea. :-)