This time we've been training translators in Košice
22. 11. 2017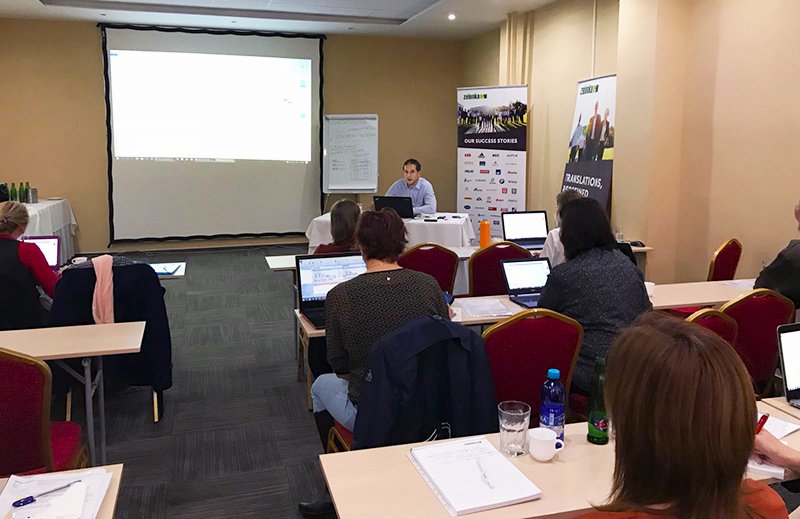 We take great pride in our translators and appreciate their hard work, in return, we always try to do our best to be at their disposal, provide a steady supply of jobs and help them stay up to date on the latest trends and software upgrades by providing regular practical training sessions. The beautiful town of Košice in Slovakia played host to a full day of training and left all participants thoroughly familiarized with the latest SDL Trados Studio 2017 updates.
Our focus was to provide a practical experience that went beyond just theory. The training course provided a combination of practical and useful examples of how the CAT tool works with translations, translation memories and glossaries. The main aim was to create relevant, applicable ways to simplify how translators view and work with this software.
To thoroughly prepare, we contacted the participants in advance and asked them to provide us with a comprehensive list of intricacies and issues they struggle with when using Studio. We were pleasantly surprised by the detailed responses we received, which allowed us to prepare material to real difficulties that individual translators encounter on a daily basis when using the software. The training course was the best place to face this head-on and work through the issues together.
We are grateful to all the translators who took part in and joined us in Košice. Moments like these not only prove the usefulness of translator training, but also provide great opportunities to meet in person. It's not just about the translations—spending time getting to know each other and working through problems together is also crucial. This is exactly the kind of time that enhances friendly relationships and mutual understanding.
Oh, and we can't forget to mention that sudden power outage that put a somewhat humorous spin on our discussion about modern technologies. :-)
If you are interested in joining us for the next training course, be sure to follow our Facebook page or register on our translator database. You will be the first to know about the next dates. The venue is always decided by the translators, so get involved and make your voice heard. Because you never know—the next one could be in your town. These courses are open to all translators, whether you work with us or not.