This year the traditional event for our customers will be held again in Prague
21. 8. 2013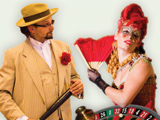 We have always prepared these traditional events in a different environment – to allow us to relax and to discuss all work and non-work-related matters with our clients. This time, the event will take place in Restaurant La Republica in the Prague old town center.
For Saturday, September 28, we have prepared a program with the theme of Mafia-style. We will go back to the thirties with the whole "shabang": a ride in a historical tram, mob shootout, luxury casino, cigars for those who love to smoke and "Russian Roulette" for any volunteers. :-)
If you are one of our regular customers and you would like to receive an invitation or more detailed information, please contact Irena Hradilová from our Zlín headquarters.
You can view pictures from our last year's "sailors" event here:
http://www.flickr.com/photos/zelenkacz/.
The video is on YouTube:
http://www.youtube.com/watch?v=NcxxS8ODGPg.