We've retained the ISO 9001 standard and obtained the ISO 17100 certificate
31. 5. 2017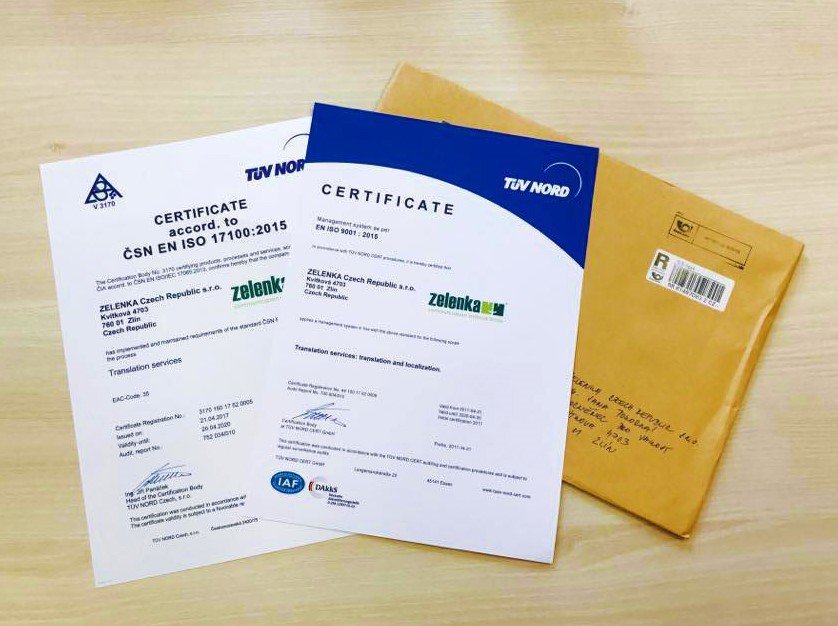 The never-ending improvement of our quality management is extremely important to us. We want our clients to be sure that their translations are in the hands of a reliable company with clearly defined rules. That's why we voluntarily invite external auditors to check all our processes and practices every year. This time we had the opportunity to receive a team of auditors from TÜV Nord.
Retaining the ISO 9001 standard – Why is it still important in 2017?
The ISO 9001 standard places a number of requirements on the processes within a company interested in continuously improving the quality of their services (for example, it is necessary to regularly monitor the quality of translations, evaluate the work of translators, analyze the feedback from clients, etc.). Any business can apply for the certificate, but the goal remains the same – to prove that all processes within the company run efficiently and ensure the quality of the final product or service they provide to their clients or customers.
Obtaining the ISO 17100 certificate – Why is it important?
ISO 17100 is an internationally accepted standard (it follows up the original EN 15038 standard) and establishes requirements exclusive to the translation services industry. Companies applying for this certificate must meet a great number of clearly defined criteria in order to obtain the certificate.
For example, every certified company must prove that they work only with top-level translators (qualifications and experience) who have access to up-to-date technological tools to adequately ensure the security of all data. For more information on this standard, our blog post explains it in much more detail: "ISO 17100 - The Globally Recognized Standard for Translation Services".
For us, both certificates have one main purpose: to assure our clients, as well as our vendors and colleagues, that we are a reliable and modern translation company that truly cares about the quality of all language services.