People of ZELENKA – Tomas Pour
20. 1. 2023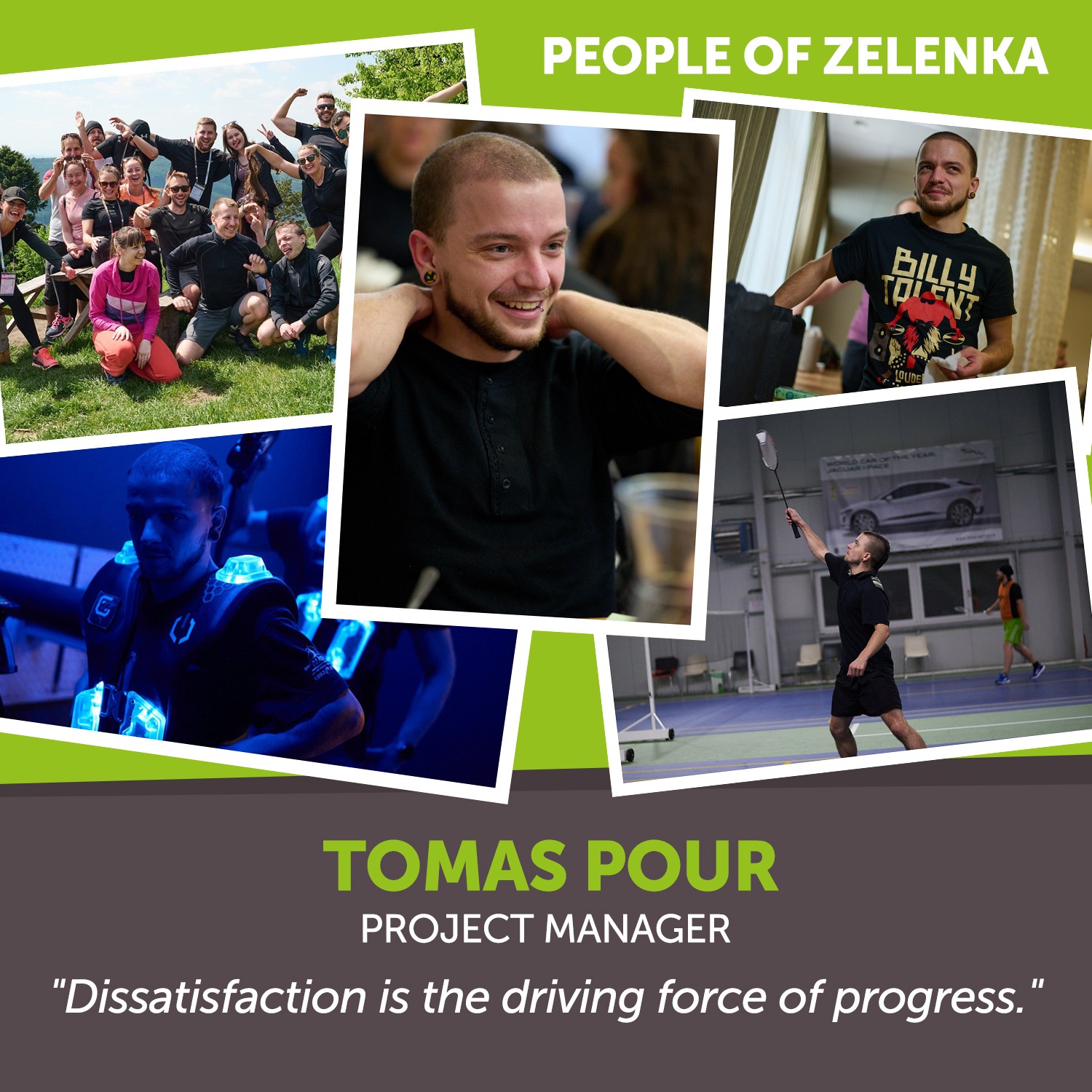 Tomas has been a Project Manager here for just over two years. He's quite the joker – and athlete – and he really loves cats (especially his own playful feline roommate). His colleagues in our German department appreciate, for example, his willingness to dive into the thorniest projects and drive them to success.
❓ Tom, what immediately interested you after you came here?
"I guess what surprised me the most was the friendly atmosphere and the invitation on my very first day to sit after work and chat about... everything! That really left an impression. :-)"
❓ And what, meanwhile, was the hardest at first?
"Multitasking! Working as a Project Manager really tests how good you are at being careful and organized. You're often handling several projects at once, and I honestly felt for a bit I was not the guy for this. But pretty quickly I managed it with help from the team and gradually trained up to a point where it even amazes me. So, thanks to this job I've learned I can do something I never expected."              
❓ Do you have a favourite type of project as a PM?
"What I like most is the balance between traditional projects and the more complex ones. I wouldn't want to work just on the "cookie cutter" ones, where the approach is clear. I like to also dive into the unusual ones, where there's more of a need to think over the right solution. Ideally, I'd like to have it half-and-half."
❓ Can you remember a project that made you particularly happy?
"I'm happiest when I solve an "unsolvable" problem – and some orders really do seem unsolvable. I'm always looking for the most efficient path, and I don't stop until I'm satisfied with my work and convinced it will benefit the customer. It always gives me new proof for my little motto: Dissatisfaction is the driving force of progress. :-)"
❓ We probably all have times when suddenly there's a lot of work. Like when several urgent orders arrive right in a row. What helps you at times like that?                                                                  
"The main thing is to keep a cool head. When things pile up, it's essential to overcome that initial "falling behind!" feeling, maybe by taking a few deep breaths or a quick walk in the hallway. And then dive in systematically.
Today it even seems a bit unbelievable to me how much I can get done when I calm down and work on it all step-by-step. It takes training, but if I can learn it, then I guess just about anyone can too. :-)"
❓ And how about your non-work life? What helps you relax?
"There's so much! I like to run, lift weights, read books, or spend time with the people that I like. Or also head out for a beer or a movie or play a game. I really like listening to music, and I even have my own jukebox in my head! But I prefer not to reproduce that music and songs (well, in front of people – apologies to my shower! :-D)."