Recertification Audit for ISO 17100 and ISO 9001 Standards Completed Successfully, This Time Online
11. 5. 2020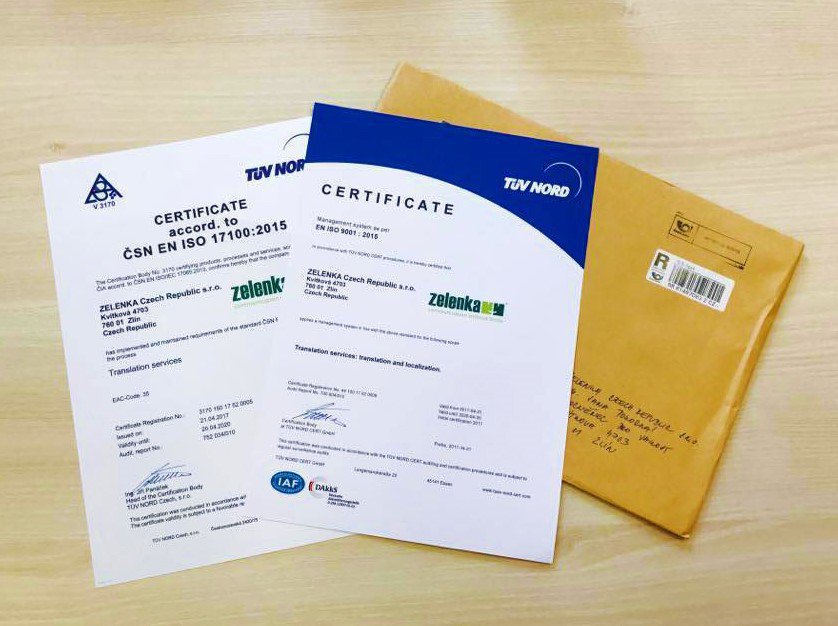 We undergo audits by independent certification companies every year to ensure that clients and suppliers know that we take the quality of our language services seriously. Once again, we approached TÜV Nord to evaluate our processes based on the internationally recognised ISO 17100 and ISO 9001 standards.
This year we underwent a recertification audit (done every three years) to determine whether our processes still meet the conditions for receiving future certificates.
Due to the coronavirus pandemic, for the first time, this recertification audit was performed online. Much to our satisfaction, we discovered the process to be very thorough and effective.
Good news for our clients and translators
We passed the two-day audit with flying colours. What does this mean for our clients and vendors?
Clients can rest assured that their translations will be taken care of by experienced and proven linguists.
Translators can rest assured that we will offer them contracts that reflect their expertise and that we will manage their projects professionally.
At ZELENKA, we take pride in our reliability, efficiency, and our ability to handle complex orders. Our successful ISO 17100 and ISO 9001 recertifications confirm that our pride is not misplaced.
ISO 9001, in brief
The ISO 9001 standard deals with a company's internal processes and how to make these more efficient through measurement and evaluation. The fact that we obtained this certificate for the thirteenth time in a row is testimony to the constant effort we put into delivering quality services.
ISO 9001 addresses:
Human resource management
Documentation and infrastructure management
Risk management system
Supplier evaluation
ISO 17100, in brief
The ISO 17100 certification can only be obtained by translation companies. The exceptionally strict requirements cover issues such as:
Cooperation with sufficiently qualified translators (university education, relevant experience, etc.)
Management of the translation process (from processing the offer to output control, invoicing, and providing feedback)
Quality of the technical and technological systems (information system, hardware, etc.)
Guaranteed information security
You can find out more in the article → ISO 17100 - The Globally Recognized Standard for Translation Services
Are you looking for a reliable translation company? We recommend choosing one that has certifications for both standards. This increases your chances of a smoother process and higher-quality results.