This Year, We Have Once Again Upheld Our ISO 9001 and ISO 17100 Standards
27. 4. 2018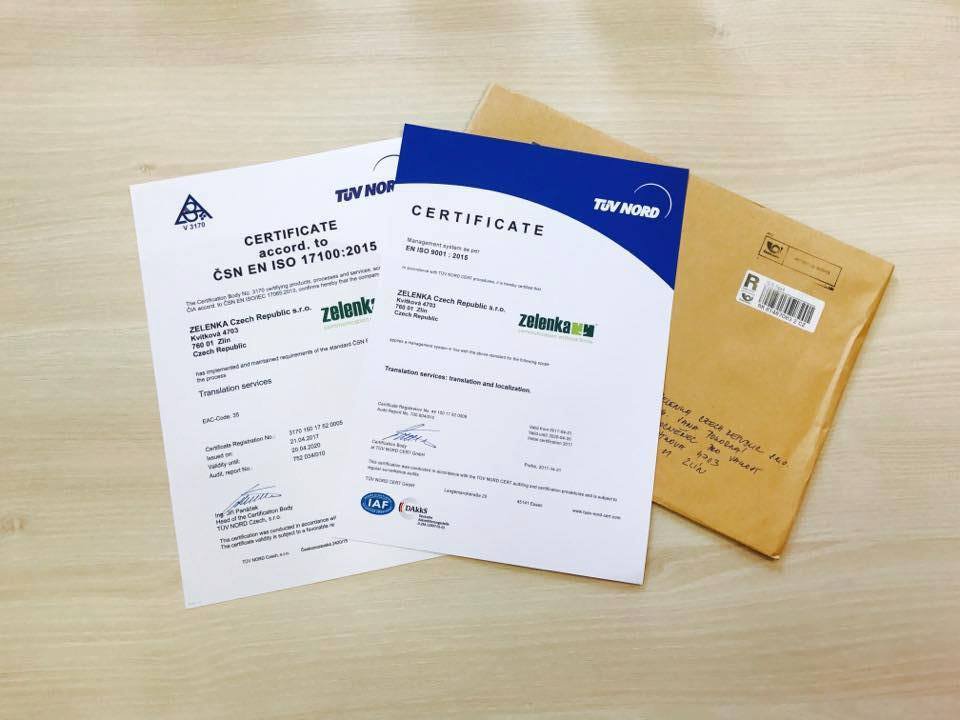 One of our translation company's goals is to continue improving our internal processes and quality management. Why do we make it a point to work in compliance with internationally recognised standards?
These standards give all members of our team the ability to work in an organised and structured environment, which is reflected in the increased level of performance and productivity.
It shows our clients how dedicated we are to maintaining the quality of our language services by keeping a well-coordinated system in place.
Our external translators regard us as reliable partners who remain transparent, act fairly and are able to deliver a steady workload.
This year, just like the year before, we invited auditors from TÜV Nord to our offices to assess our processes in terms of the ISO 9001 and ISO 17100 standards.
What is the ISO 9001 standard?
This sets the bar for internal processes for companies who wish to apply for certification. Auditors determine the efficiency and capability of a company to deliver the highest possible level of service quality to clients.
They also carry out assessments to determine whether the company regularly analyses feedback from its clients, evaluates the work of its suppliers, and follows established rules for working with documentation.
What is the ISO 17100 standard?
While an ISO 9001 certification can be requested by any company, an ISO 17100 certification (formerly known as an EN 15038 certification) can only be obtained by a company that provides translation services.
The internationally recognised ISO 17100 standard deals with a number of criteria. During the auditing process, there is an evaluation on whether only educated and professionally adept translators work for the company and operate modern translation tools, and on whether the company is consequently responsible for securing all data. For more, information our article on the subject goes into more detail -> ISO 17100 – the internationally recognised translation standard.
Even though we've upheld both of our certifications, we won't let it make us complacent. We will continue to look for ways to improve our operations, always striving to remain a reliable partner for our translators and clients for many years to come.