We Have Successfully Defended Our ISO 17100 and ISO 9001 Certification. Why Is That So Important?
29. 4. 2019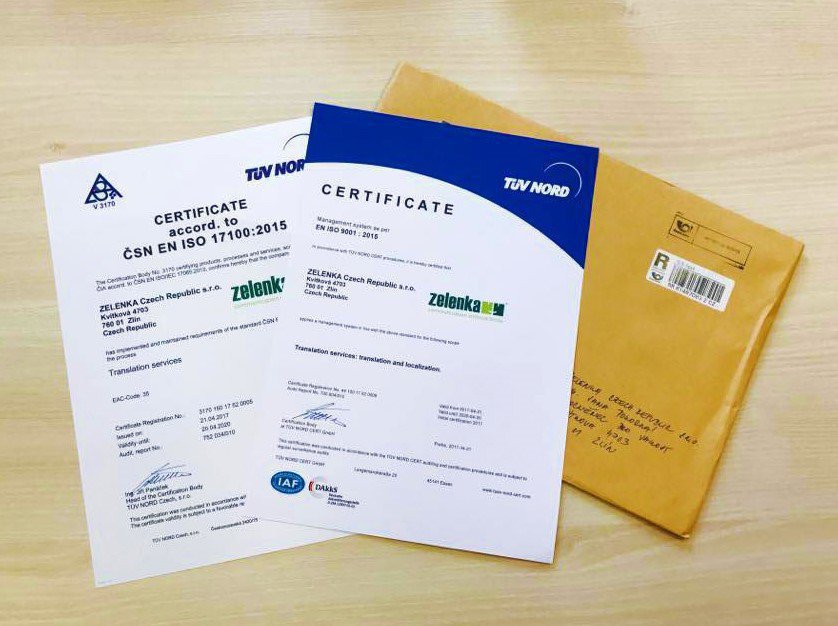 We've had the pleasure of having TÜV Nord's representatives in our offices again this year to evaluate our processes in terms of the internationally recognized ISO 17100 and ISO 9001 standards. After two days crammed tight with the careful assessment of our operation, we were able to raise our glasses in celebration (after working hours, of course:-)). We successfully defended both certifications.
What is so beneficial about these certifications for us?
We look at the certificates as an independent confirmation that we really do care about the quality of our translation services. We pride ourselves on our reliability and the efficiency of our work, as well as the ability to handle unusual orders. However, a potential client/supplier may be completely unaware of that, which is where certification from independent audit firms comes into play.
We see a dual benefit in this.
Our clients can be assured that only high-quality and verified translators will be working on their translations.
Our translators meanwhile know that we will be offering them jobs they are qualified to perform and that we'll provide adequate support throughout the project process. This means we will prepare all the supporting material, provide technical support and deal with their questions directly with clients.
What does the ISO 17100 standard address?
Only translation agencies can obtain ISO 17100 certification and must fulfill demanding requirements to receive it. These include:
managing the translation process (from bid processing to final inspection, billing, and feedback),
ensuring information security,
a high quality technical and technological base (information system, hardware, software...),
cooperation with sufficiently qualified translators (university education, sufficient experience...).
You can learn more in the article ISO 17100 - the worldwide recognized standard in translations.
We weren't completely satisfied with just ISO 17100, though. Certification under the following standard is also of great importance to us.
What does the ISO 9001 standard address?
ISO 9001 deals with the internal processes of the company as well as their measurement and evaluation so that they can be further streamlined. Quality is something we truly take seriously, so it's no surprise that we have already applied for certification under this standard twelve times in a row.
It addresses the following:
document and infrastructure management,
management of human resources,
supplier evaluation,
the risk management system.
If you happen to be looking for a translation company at the moment, we recommend that you choose one that works in accordance with both standards. This will increase the chances that your translation orders are processed using the highest standards.
You can read about a few other reasons why you can entrust your translations to us and our processes in taking extra care of your projects.